Orange Victims day is held on the 1st September. If we are to step back from the religious and cultural identity of all the innocent victims of terrorist violence, and allow ourselves the shared space to see the victims as the ordinary men and women of our community, husbands, wives, sons, daughters and fathers, employees, friends and colleagues. Who were savagely murdered by terrorists. Then this collection of 342 Haiku memorial poems in English and Irish translation by Dr Ciarán Ó Coigligh brings a level humanity to the 342 Orangemen murdered during 'The Troubles'. At a time when innocent victims of violence on the Island of Ireland are being ignored, and their voices and life-story rewritten as statistics. By the powers of political expediency across our shared isles. Then it is our honour at Yellow House Publishing to have for our first collection of published poetry the work of Dr Ciarán Ó Coigligh.
'This poetic composition is also a gesture of personal atonement for my former naive support for militant separatism which was my societal inheritance'.
Ciarán's book will be available from 28th September and preorders can be made through our shop page.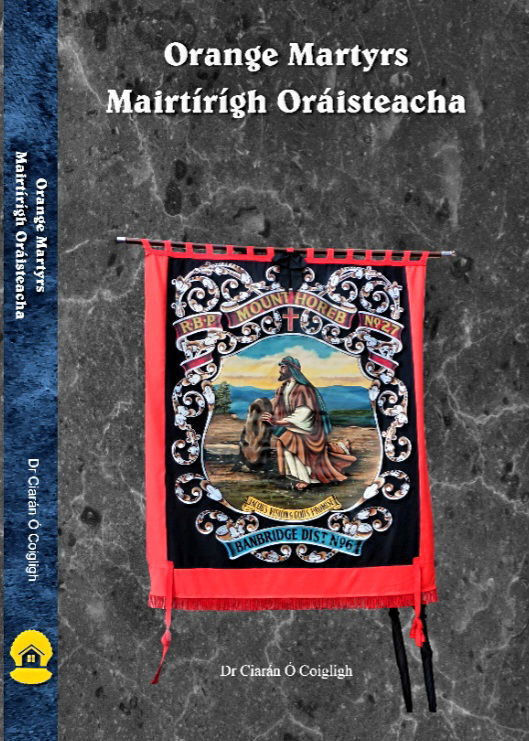 I met Ciarán many years ago and, after a conversation, was immediately drawn to his compassion and genuine empathy for the plight of terrorist victims, at the hands of those who wrought havoc across our society. He and I come from vastly different backgrounds and traditions but, like so many, we greatly respect each other, and share a commonality on many issues. Like myself, he is a fervent advocate of the rights of the unborn child and preserving societal norms on the traditional view of marriage. Ciarán epitomises the importance of building friendships and harnessing mutual respect between communities on those issues. He has a passion for the Irish Language and is an academic in his field. He has educated many in the value of the language he loves, which he uses for the greater good, and is acutely aware of the sensitivities surrounding it in Northern Ireland. He fully appreciates others are using his language in a sinister manner for the purposes of political manipulation and leverage, something he finds abhorrent. In this publication he uses the language to remember the 342 Orange Order brethren murdered by terrorists. He has carefully and meticulously translated the names of our members in a bilingual format. This memorial publication will be fitting as another medium to confront the historical revisionism by those who attempt to subvert the truth about our brutal and depraved past. This bilingual remembrance will bring to the fore, once again, the sacrifice of our murdered brethren. Ciarán is someone I greatly respect and call a friend. He is a tremendous advocate of Unionism and a genuine friend of the Protestant community. As an Orange victim of the PIRA, it gives me great pleasure to recommend this publication.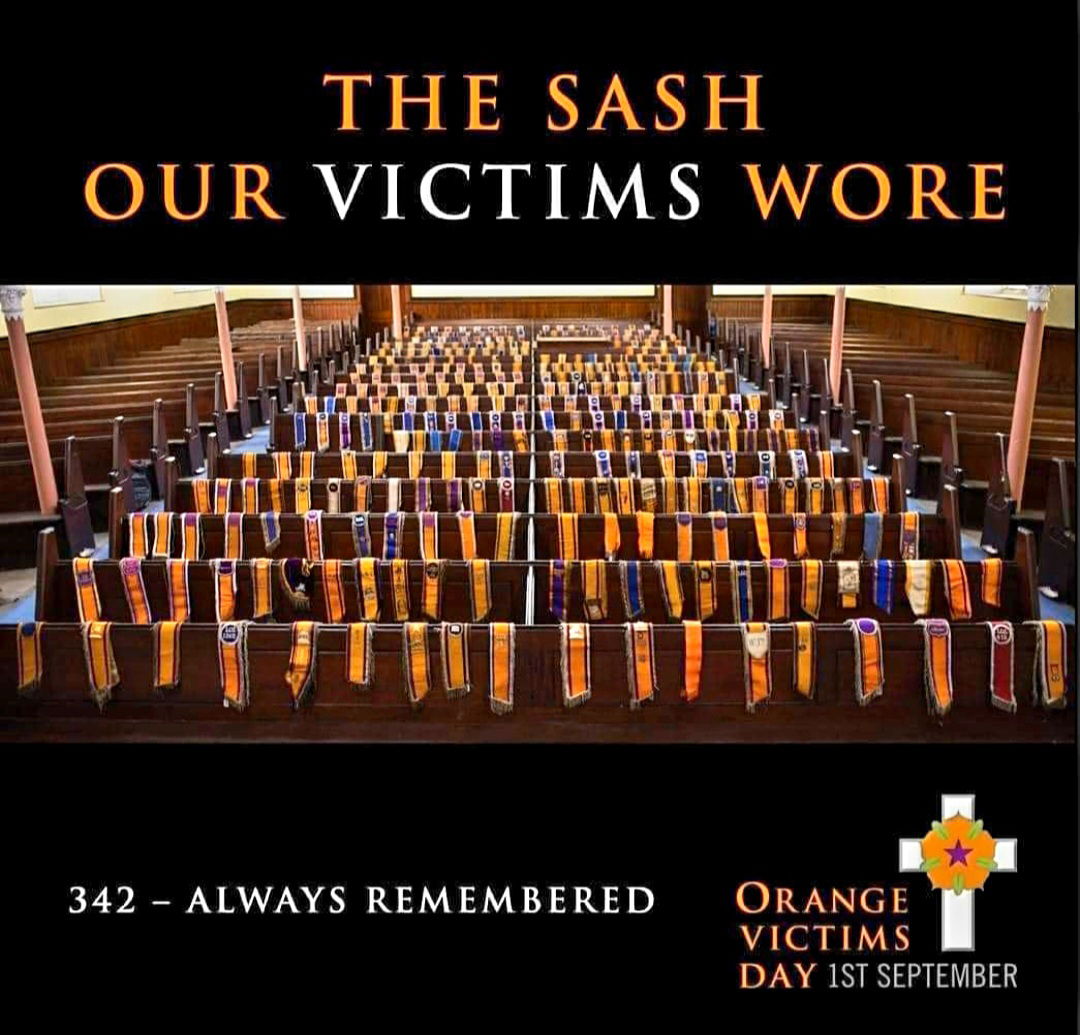 Is pribhléid dom go n-iarrfaí orm réamhrá a scríobh i gcomhair an fhoilseacháin seo le Ciarán. Casadh Ciarán orm blianta ó shin agus tar éis comhrá, chuaigh a thrua agus a dháimh dháiríre – le cás íobartaigh na sceimhlitheoireacahta ag a lámha siúd a rinne ár ar fud an chomhluadair seo againne –chuaigh siad sin i gcion orm. Fáisceadh mise agus eisean as cúlraí agus dúchas fíor-éasgúil, ach, ar nós go leor eile, tá meas mór againn ar a chéile, agus tá muid ar aon intinn i dtaobh ceisteanna go leor. Ar mo nós féin, is abhcóide díograiseach é ar son chearta na leanaí gan bhreith agus ar son na tuisceana dúchasaí ar an bpósadh. Is eiseamláir Ciarán ar a thábhachtaí atá sé cairdeas agus comh-ómós i measc pobal a chothú ar na ceisteanna seo. Tá grá mór aige don Ghaeilge agus is acadúlaí sa ngort sin é. Is iomaí duine ar chuir sé oideachas air I dtaobh fhiúntas na teagna arb áil leis í, agus a úsáideas sé ar leas an phobail, agus tuiscint ghrinn aige ar a leochailí ata gnóthaí Gaeilge I dTuaisceart Éireann. Tuigeann sé go maith go bhfuil daoine eile ag baint gaisnis as an nGaeilge ar bhealach bagrach ar mhaithe le cúbláil agus anáil pholaitíochta, rud is gráin leis. Sa bhfoileachán seo úsáideann sé an Ghaeilge le haghaidh cuimhneamh ar an 342 ball den Ord Oráisteach a dhún-mharaigh sceimhlitheoirí. D'aistrigh sé ainmneeacha ár gcuid ball go cúramach agus go mion sa leagan amach dá-theangach. Beidh an foilseachán cuimhneacháin seo feiliúnach mar mheán eile le dúshlán ath-scríobh na staire acu siúd ar mian leo an fhírinne I dtaobh na staire brúidiúla truaillithe a chur dá bonn. Tabhairfaidh an cuimhneachán dá-theangach seo chun cinn, uair amháin eile, íobairt na mbráithre agus na ndeirfiúracha seo againne. Is duine Ciarán a bhfuil ómós as cuimse agam dó agus ar caraid liom é. Is urlabhraí iontach é ar son an Aontachais agus caraid dháiríre leis an bpobal Protastúnach. Is mór an sásamh dom-sa, mar íobartach de chuid Shealadaigh an IRA an foilseachán seo a mholadh.
SAMMY HEENAN SAMAÍ Ó hAONÁIN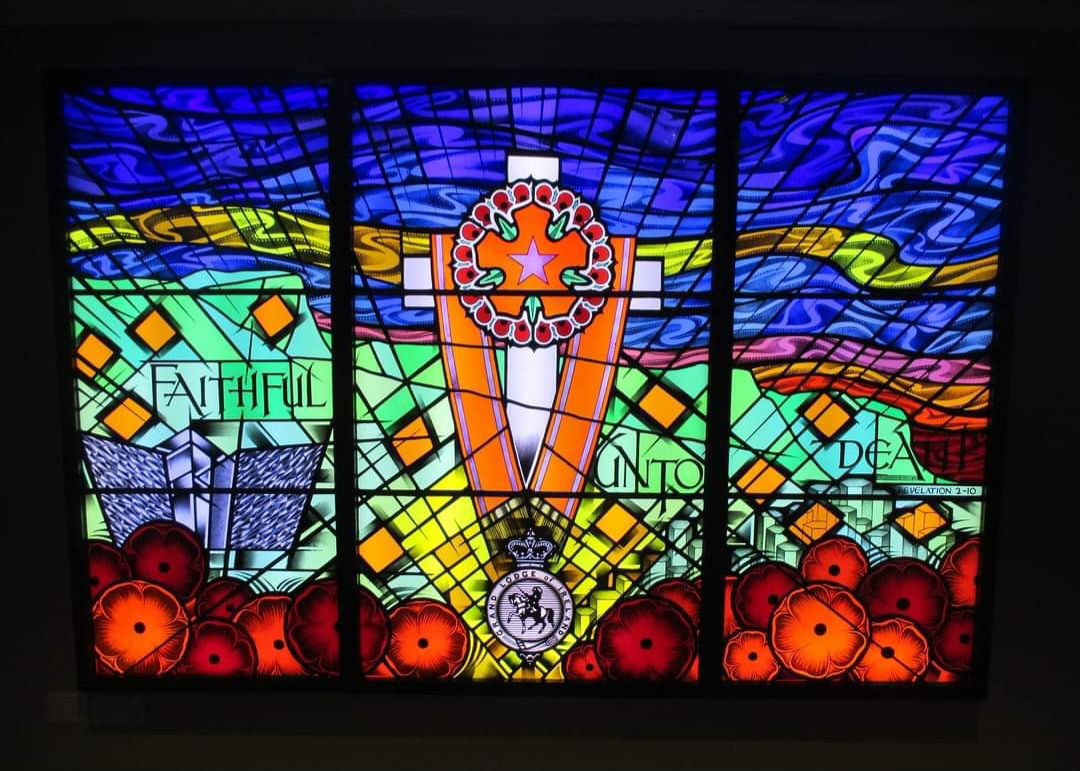 Author royalties from this publication will go to the South East Fermanagh Foundation (SEFF) for the support of victims. Gabhfaidh dleachtanna údair don fhoilseachán seo chuig Foras Fhear Manach Thoir Theas ar mhaithe le h-íobartaigh.